Plan analysis is where we start.
For more than 30 years, we have been helping home builders make informed decisions about how to build energy efficient homes.
Before you decide whether or not you want to work with us you need to know what we can do for you and what kind of value we will bring to your project.
That is what Plan Analysis will determine:
What are the performance goals for your new homes?
How can you meet those goals cost-effectively?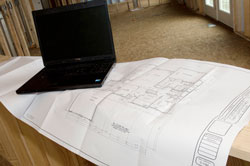 Together, we will analyze the impact of any construction value you wish to consider – ceiling insulation, raised heel energy trusses, framed walls, sheathing options, furnaces, geothermal systems – literally everything in the home that affects the energy  use. We will look at all of your construction options and help you determine the best use of your construction budget monies.
You will then know exactly how your home will perform. Get a free consultation from one of our building science professionals today.