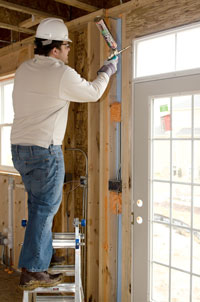 The First Step to Energy Efficient Construction
Building Science researchers have long known that energy efficiency starts with tight construction. Even in the finest construction, hundreds of seams and holes are created during the building process, allowing air to escape. There are many paths through which outside air moves into your home, and through which air escapes. In a typical house, these holes gathered together in one spot would create an opening of 400 square inches or more! Collectively, it's the same as leaving a window open all year long!
Among other problems, these openings can cause frozen pipes, uncomfortable drafts and high heating and cooling bills. Eliminating these sources of air leakage through effective sealing during the construction process is the single greatest impact you can have on your home's performance.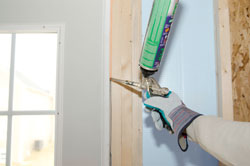 The Nelson Energy Seal® service improves your home's performance and protects the R-Value of your insulation by eliminating excessive air leakage. This unique service stops excessive leakage by strategically applying sealants during two critical stages of the construction process. If your home is built without our sealing service, many sources of air leakage would become inaccessible after completion.
We seal your home at two critical stages of the construction process:
Energy Seal – Stage 1
At the rough frame stage, we seal the exterior surfaces including all sill plates, bond joists, top plates, sheathing holes, electrical, mechanical and plumbing penetrations, overhangs and dozens of other problem areas.
Energy Seal – Stage 2
After the drywall is installed, we seal around the edges of the openings made for electrical outlets, plumbing fixtures and other holes through the exterior walls and ceilings – what we call the "envelope" of the home. This critical step reduces air leakage and moisture migration into exterior walls and attics.
The benefits are many. You will enjoy:
Lower heating and cooling bills with savings of up to 25%
A comfortable environment without drafts
Cleaner air by reducing dust, pollutants and insects
Quieter home by reducing airborne sound
The Nelson Energy Seal® service helps to ensure that your home will perform at peak efficiency. Our homes are randomly tested to verify the rate of air leakage. This performance testing guarantees quality materials and professional, effective workmanship. Get a free consultation from one of our building science professionals today.